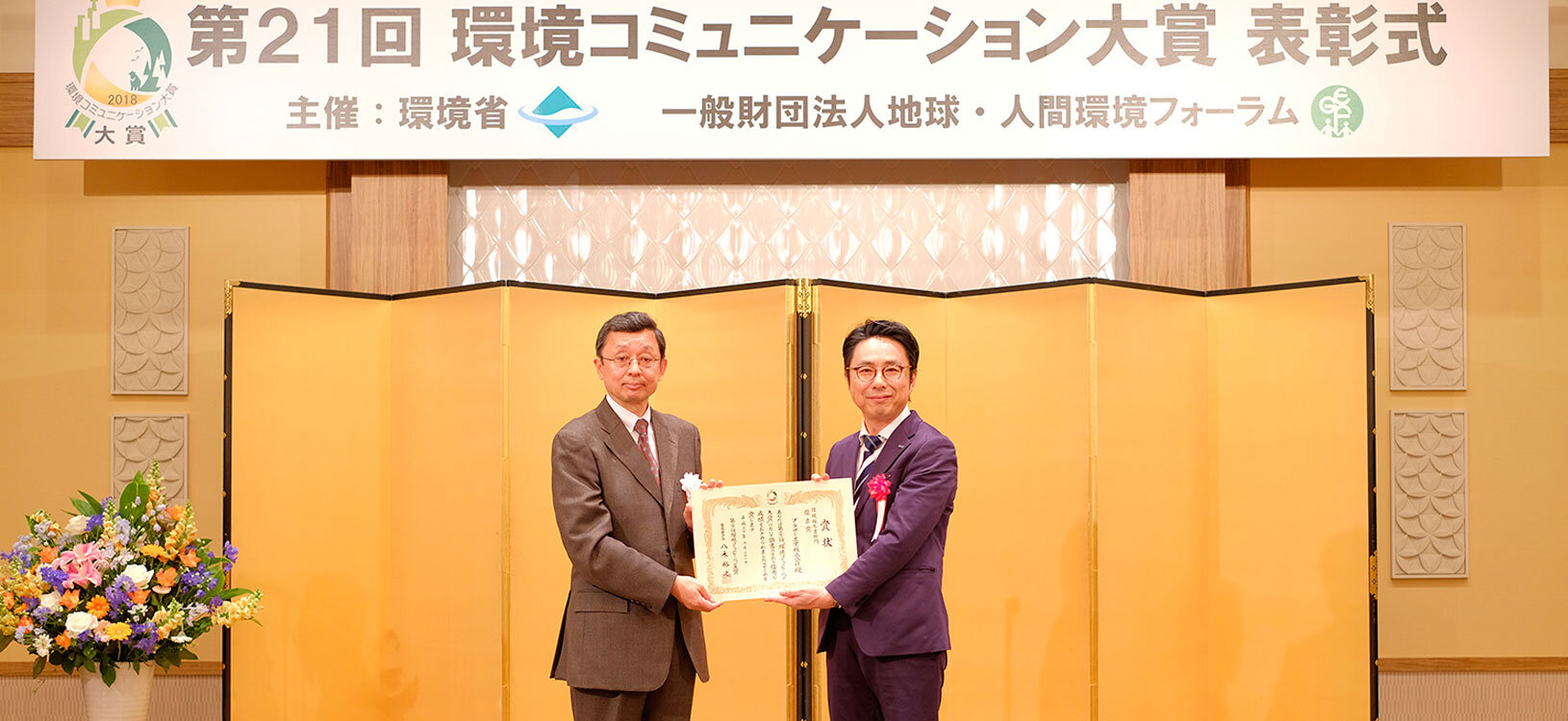 In February 2018, Brother Industries, Ltd. (BIL) won the Good Performance Prize* in the Environmental Report Section of the 21st Environmental Communication Awards organized by the Japanese Ministry of the Environment and the Global Environmental Forum.
The aim of the Environmental Communication Awards is to encourage business operators, etc. to work on green management and environmental communication through commendations and improve the quality of environmental information disclosure.
BIL won the award for its "Environmental Activities" webpage that delivers annual reports about the Brother Group's environmental activities; and for "brotherearth.com", Brother's special website on the environment, which uses responsive web design to disseminate information about both up-to-date and unique activities.
This is the fourth consecutive year that BIL has won the award. The following comment was given during the evaluation:
"The website clearly explains the Brother Group's commitment to environmental management based on numerical data and text, with the product life cycle and overall value chain taken into account. The website is highly evaluated because it comprehensibly presents the Brother Group's well-established policy, plan, and activities to reduce CO2 emissions from products and business operations and to ensure biodiversity conservation. Given its global operations, BIL should clarify its commitment to the Paris Agreement and SDGs, which are two major challenges to humankind, and the relevance of its efforts. In this context, it is desirable to use backcasting based on longer-term targets and conduct materiality analysis for BIL in more detail."
The Brother Group promises to continuously act to ensure eco-consciousness of all aspects of its business operations so as to positively affect society. Under the environmental slogan "Brother Earth," the group's environmental activities will continue to be publicized worldwide under the unifying message of "Working with you for a better environment."
* The Good Performance Prize is awarded to reports that set an example in information disclosure (e.g. those prepared by companies that actively work on environmentally conscious management or those that disclose information in an easy-to-understand manner).
Share this article on social media