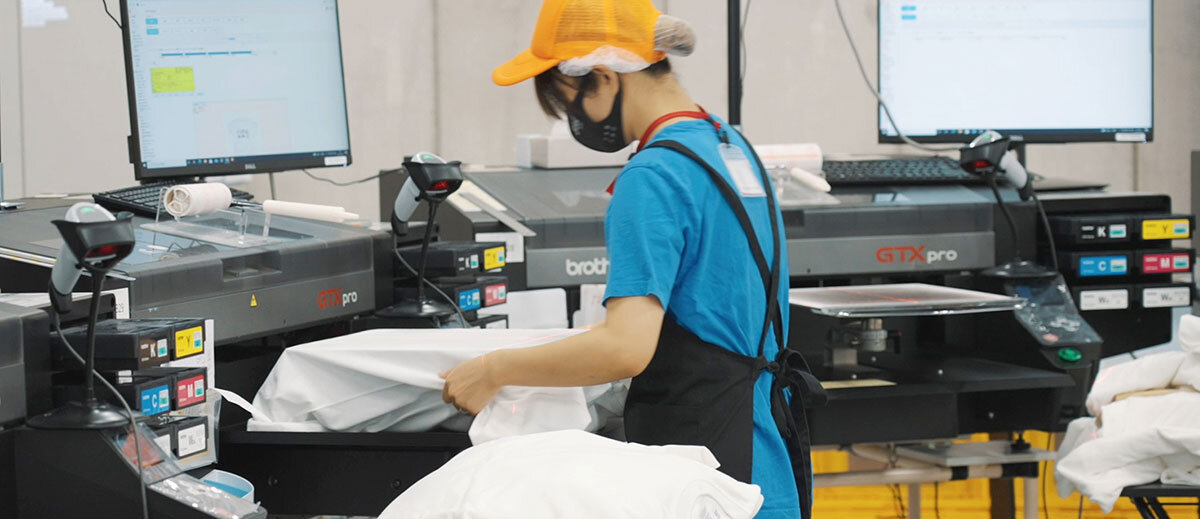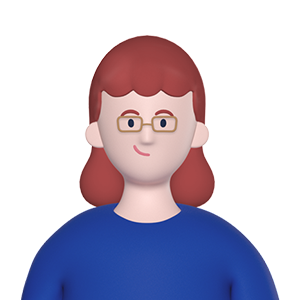 Hear your ideas.
What You Need, in Just the Amount You Need. Contributing to a Sustainable Apparel Industry.
Garment printers support on-demand printing of apparel
Brother is not only offering printers for home and office use, but also garment printers for industrial use that can print directly on t-shirts and other fabrics using special inks. Digital printing with garment printers is eco-friendly compared to conventional printing methods in the apparel industry, and on-demand printing also reduces the disposal of excess inventory, which is a problem in the apparel industry.
A garment printer born from Brother's office printing technology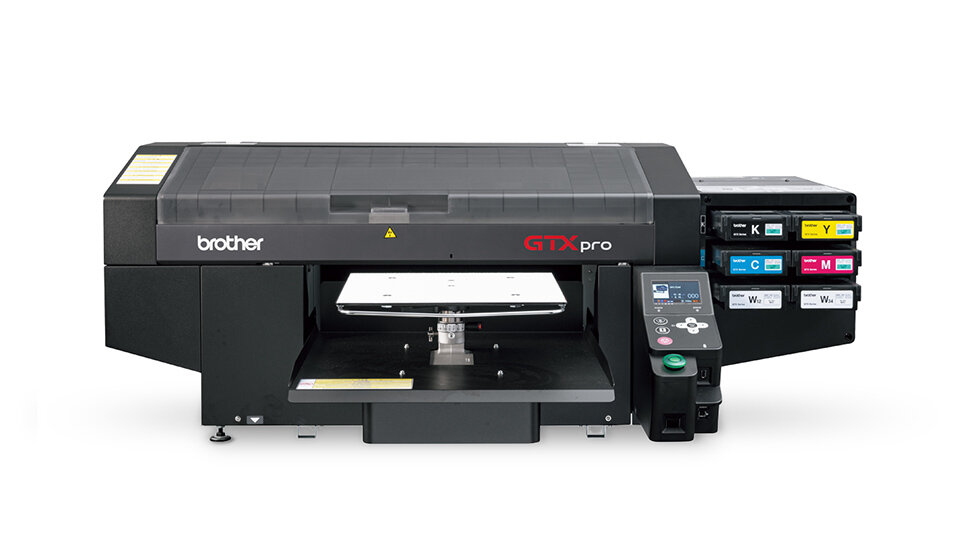 Brother has been selling inkjet printers for office use since 1992. Leveraging its inkjet head technology assets, Brother developed an industrial-use garment printer that can print directly on clothing, and began selling it in 2005. In 2017, Brother updated the print head to increase the ink ejection speed and improve printing accuracy. In recent years, as the need for on-demand production has been growing rapidly in the apparel industry, the garment printer has seen a significant increase in sales.
From mass production to the age of on-demand production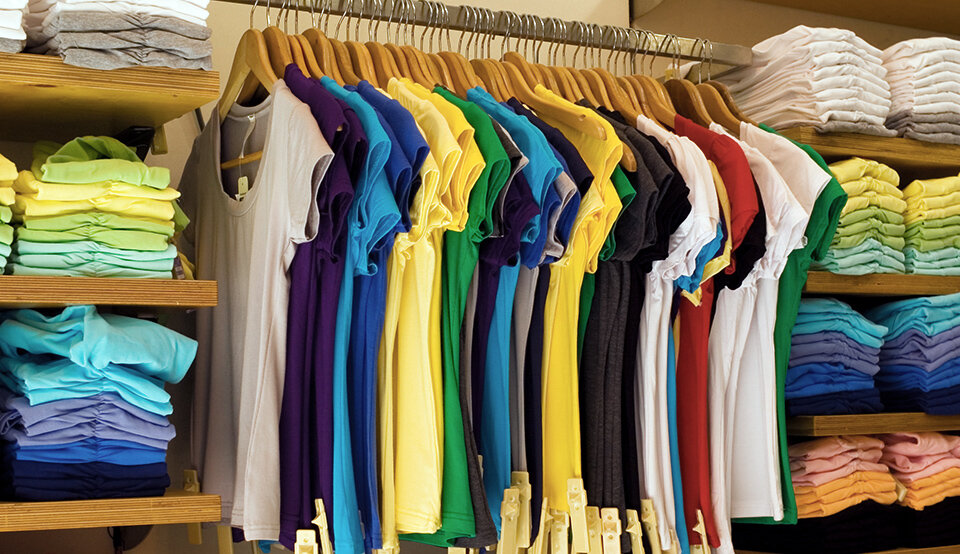 In the apparel industry, responsible for one of the three essential elements of life (food, clothing, and shelter), fast fashion has been on the rise since the 2000s. To meet ever-changing fashions and diverse consumer needs at low prices, the short-cycle of mass production and mass consumption has taken root worldwide, and our lives have become more affluent. But at the same time, this has created a large amount of excess inventory, which has become a social problem as the majority of the 1.5 billion pieces of excess inventory in the domestic industry alone are being disposed of. As environmental awareness grows worldwide to realize a sustainable society, the need for on-demand production is growing rapidly in the apparel industry.
The Brother garment printer in action at IMAGE MAGIC Inc.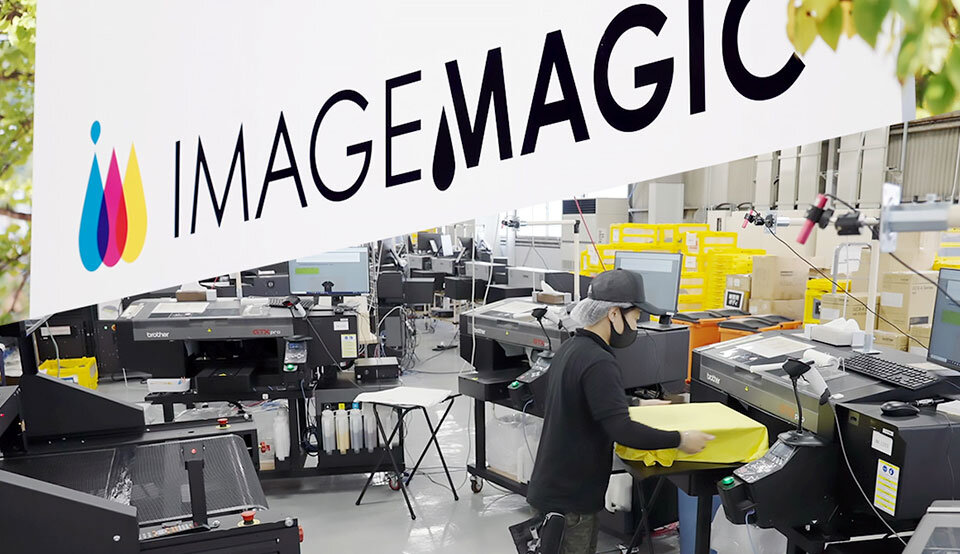 IMAGE MAGIC Inc., a company that provides on-demand printing services for apparel such as T-shirts and miscellaneous goods, has the vision of expanding the range of items that can be produced on-demand, reducing the amount of wasted inventory in the world, and fulfilling responsible production. Conventional printing methods that require plate making inevitably require large inventories due to the large minimum production lot size and consume large amounts of water to clean the ink used for plate making. On-demand printing, which uses garment printers, does not require plate making and can be produced from a single sheet, reducing inventory and the environmental impact. IMAGE MAGIC Inc. specializes in on-demand printing and is expanding its customer base in the apparel industry by explaining the advantages of on-demand printing, such as its environmental features and reduction of inventory risk, and this is where Brother's garment printers come into play.
Brother equipment active in one of Japan's largest on-demand printing centers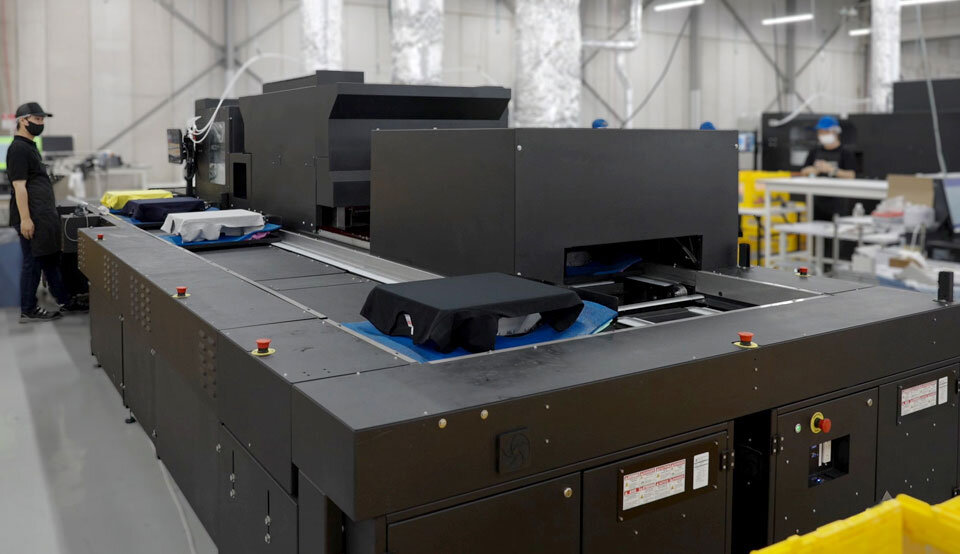 In 2021, IMAGE MAGIC Inc. established the Gifu Print Center (GPC), one of the largest on-demand apparel factories in Japan, to meet the rapidly increasing demand for on-demand printing. In addition to 50 Brother GTX Pro garment printers, the DIGITAL LINE on-demand apparel processing line was installed under the supervision of Brother to save labor in the pre-processing and post-processing of printing. At GPC, the on-demand printing service, which can process as little as one item at a time, is provided with high productivity in combination with IMAGE MAGIC Inc.'s original factory system and logistics equipment.

SDG Goal 8, "Decent Work and Economic Growth" includes target 8.4, which aims to "improve global resource efficiency in consumption and production and endeavor to decouple economic growth from environmental degradation." SDG Goal 9, "Industry, Innovation and Infrastructure" includes target 9.4 to "retrofit industries to make them sustainable, with greater adoption of environmentally sound industrial processes" as part of efforts to achieve sustainable economic growth. In addition, SDG target 12, "Responsible Consumption and Production," includes target 12.2 to "achieve the efficient use of natural resources" to ensure sustainable production and consumption patterns. Brother contributes to the on-demand printing business through the widespread use of garment printers and contributes to the realization of the SDGs by reducing excess inventory and disposal in the apparel industry and promoting eco-friendly apparel printing and efficient use of resources.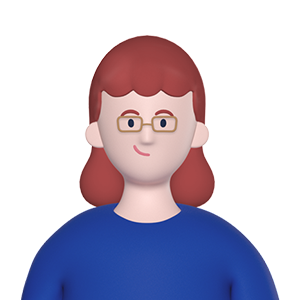 Share this article on social media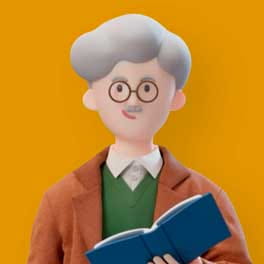 Learn about this initiative's SDGs
In "SDGs at a Glance," the 17 goals of the SDGs are explained in easy-to-understand illustrations. Click on the goal you are interested in, and you can read about it in under a minute. Let's take a look at the SDG goals featured in this article.